As one of Yorkshire's longest-standing creative digital marketing agencies, it's an honour to be representing our county at this year's Northern Digital Awards in the Best Small Digital Agency of the Year category.
At the same time, we've also been celebrating our 40th year in business and everyone at the agency is buzzing about the recognition. We're excited to be rubbing shoulders with some of the UK's most innovative digital marketeers.
A busy year for the warriors
The shortlisting is the culmination of an incredible year for us and central to our entry was the increase in our overall digital turnover – by an incredible 59% YoY. We achieved this target by helping clients surpass their goals through dynamic digital campaigns across a range of industries, including education, green innovation, and software.
Over the last 12 months, we've also secured several prestigious national and international blue chip digital accounts. These include a green energy giant with a net worth of £3.7 billion, the UK division of a Japanese software tech giant with over 110,000 employees, and one of the most up-and-coming rural broadband providers in Yorkshire and Lincolnshire with a net worth of £17.8 million.
Fighting for every click online
There were several standout digital campaigns across 2022, but some of the milestone achievements for our clients included generating £3.1M+ in student fees, £333,000 record-breaking sales from a modest £9,500 ad spend, and a 460% uplift in Top 10 SERP rankings on Google – the latter contributing to an 82.72% increase in organic search traffic for one client.
In 2022, we also partnered with one of only 12 Institutes of Technology in the country, the world's number one composite decking brand, and the UK's number one resin manufacturer. To cap a perfect year, our Managing Director Paul Sowden was also announced as one of the region's Top 20 Most Inspirational Business Leaders by BusinessWorks (a list which highlights influential figures from a range of industries).
A warrior philosophy
Considering that the average age of a small UK company is 8.5 years and only 5% of agencies have 12-30 employees, it's remarkable that we've reached a milestone 40th year. However, while our long history is one of our USPs, there is a feeling among everyone here that 'the best is yet to come'.
Managing Director Polly Sowden had this to say about the shortlisting: "We believe in epic, original digital design that's not just about aesthetics. This philosophy is what delivers the highest ROI and makes our clients stand out. Winning the Best Small Digital Agency of the Year award would be an incredible achievement for the people that make the impossible possible.
"Our team are our champions and will always be our biggest investment. They thrive because they're free to do their best work – they bang the drum for Sowdens and push us to achieve more every single day."
True veterans stand tall
Paul Sowden adds: "Each decade has brought changes and challenges, but we've always adapted, evolved and thrived. We've relished the opportunities the digital era has brought to one of the most rewarding and stimulating jobs in the world.
"Above all, we're still driven by quality and results, and our digital performance has been truly phenomenal – it's an approach that keeps our clients returning year after year."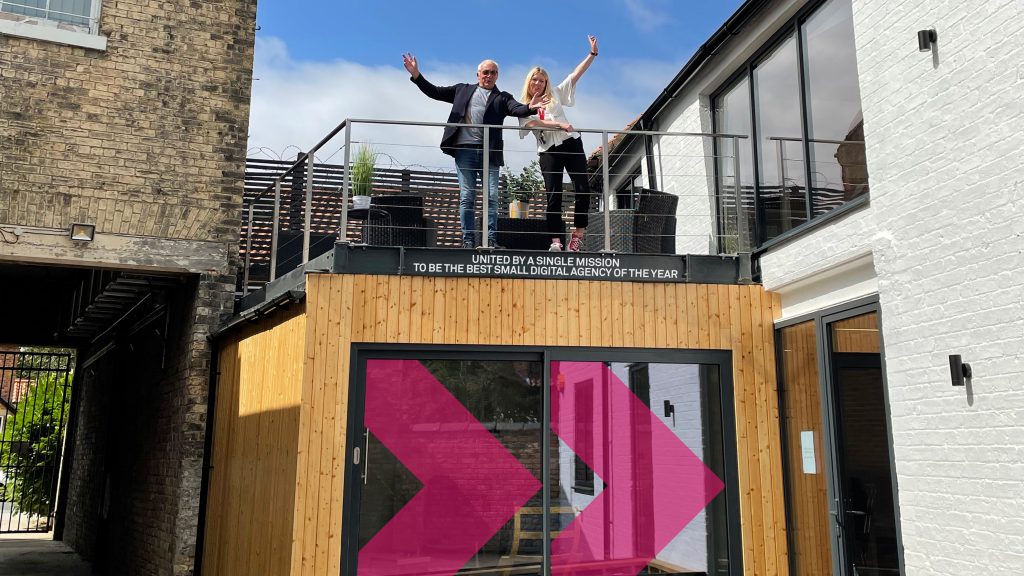 See the full Sowdens story
Finally, we'd just like to say good luck to all the other fantastic agencies nominated – see you at Leeds Armouries! In the meantime, you can learn more about who we are on our website or by checking out our social channels: