Designing an 80-page website plus creating a new brand positioning is always an exciting but not straightforward project, so when it's topped off by a finalist nomination for the Northern Digital Awards, the challenges are quickly forgotten!
The work for this nomination started with our long-term client, Unity Trust Bank, asking us to design and build a new website that would grow their brand reputation and make key information easier for customers and prospects to find.
Who is Unity Trust Bank?
Unity is a commercial bank that improves UK communities. By banking with integrity, Unity only works with like-minded customers and together, they change thousands of people's futures. In 2021 alone, Unity Trust Bank and its customers created and protected 795 jobs, housed 1024 people, and made 101 community facilities ready for families. They also helped their customers create good in their communities by providing over £56.77m in funding to the healthcare sector.
To elevate Unity's brand reputation, the ThinkOTB creative team developed a brand proposition that was guided by stakeholder testing and aligned with their vision. This was brought to life in a new brand identity which used real images of Unity's people and customers to hero their vital role in creating community impact, and extensive messaging totransform the brand proposition into audience-facing content which was benefit-led.
Using these new elements, rich insights and stakeholder testing, we created a UI design that raised Unity's community impact, delivered large improvements in functionality and self-service banking, and maximised accessibility.
Our strategy also included:
Restructuring the navigation and content making it user-led (not product-led) to minimise call centre demand, improve signposting and cut bounce rates
Building brand reputation and driving engagement amongst key audiences by creating a new 'Sectors' section to hold high-quality content that answers customer needs
Creating a full digital campaign to drive site traffic and deliver increased product applications
A united approach that delivered on metrics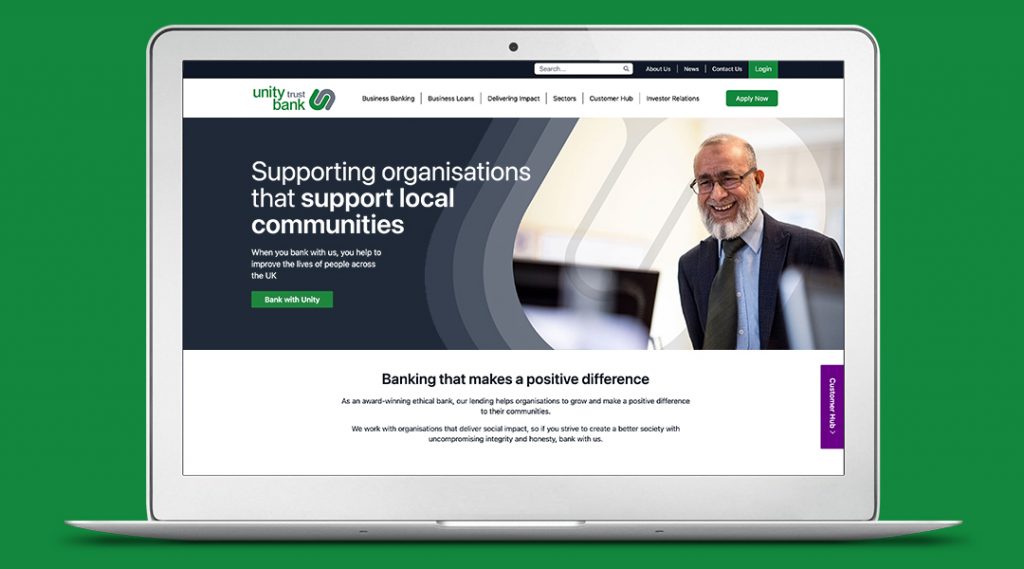 The metrics confirmed that this new website demonstrated the power of insights in building a more compelling brand purpose and delivering a UX and UI that positions the brand as trusted experts. From new users to session duration and crucial 'apply now' button clicks, the metrics were significantly up, with bounce rates down to 22.6% from 64.5%.
We believe there are two factors that make this project so successful:
merging brand and digital expertise to create a website that is engaging and totally user-focused;
our robust process from start to finish. We took time to conduct customer research, understand their needs, and use those insights to deliver a powerful site which delivers on its objectives.
All stakeholders, from Unity Trust Bank's Chairman and the Board, to internal staff and customers, have said the website has been transformational. Further developments are underway to ensure the site supports Unity's growth strategy.
Sarah Shuck, Account Director at ThinkOTB said "Designing this user-led website was a collaborative process that brought out the very best in our team by drawing on their creative, copy, UX, development, strategy and project management skills.
"Unity Trust Bank is a fantastic brand and their work is so relevant right now, so winning 'Best Website' in the Northern Digital Awards wouldn't just be a win for user-focused websites, but for banking with a social purpose. The more customers that this website inspires, the more people that Unity and its customers can help in the UK – that's the power of Unity Trust Bank."
Ingenious thinking is what we do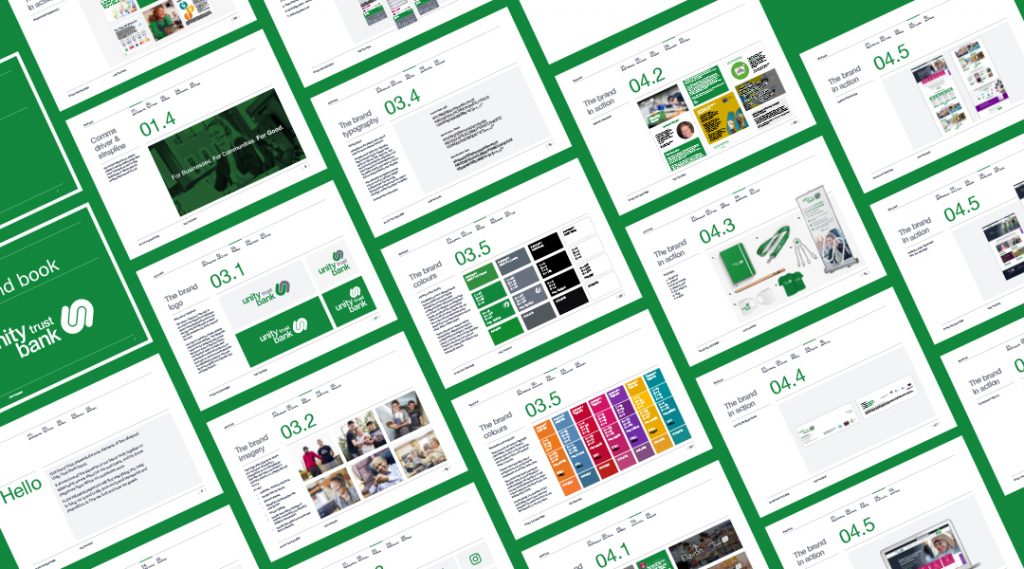 ThinkOTB is an innovation and creative marketing agency in Leeds. From creating brands (like we have for Unity Trust Bank) and marketing that engages everywhere audience are, to helping big organisations create fresh opportunities and embed innovation cultures, our clients have been relying on our ingenious thinkingit to help them drive their success for over 30 years.
With this brand proposition, brand identity and website, we are helping Unity Trust Bank to drive their own success, and we will keep our fingers crossed that 'success' includes a win at the Northern Digital Awards in 2023.