The App team at Sykes are delighted to be recognised as one of the very best in digital marketing, having been nominated for 'Best App' in the 2022 Northern Digital Awards.
Sykes Holiday Cottages is one of the UK's largest holiday home rental agencies with around 20,000 holiday homes across the UK, Ireland and New Zealand. We have over 30 years' experience in matching our customers with their dream holiday cottage, with our UK travel guide offering travel tips, recommendations and plenty of things to do in each region.
Over the last five years, we have transitioned from a holiday home agency to a market-leading technology company. That's why the Sunday Times named us as one of the UK's fastest-growing private businesses last year.
Our mobile app has been a resounding success since launch in 2017 and has continued to grow and become more important to us, with over 7% of our bookings now coming through this platform. Along the way it has won the Northern Digital Awards for Best App in 2020, and we're delighted to be shortlisted once again.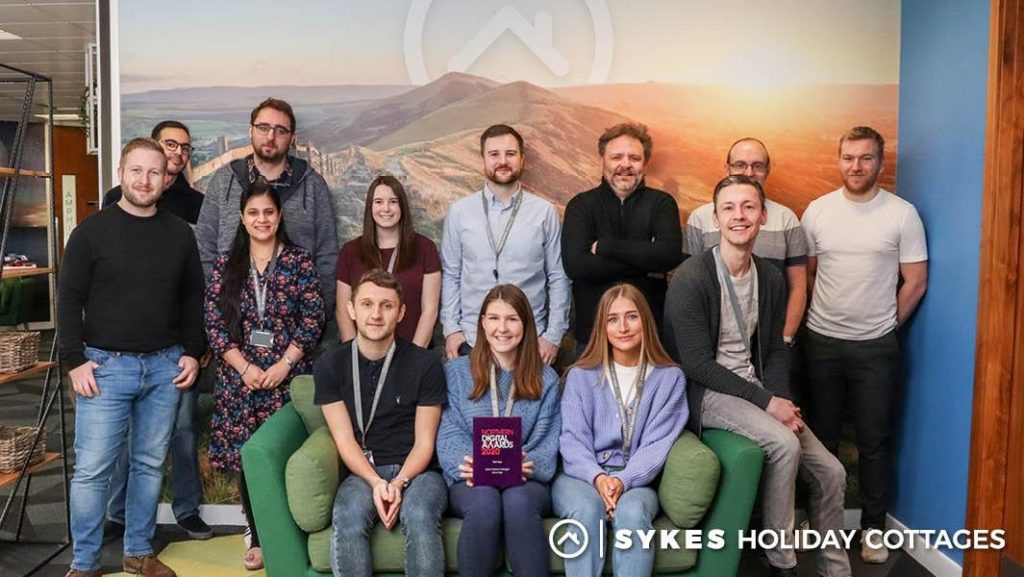 The team started off small, with only 1 developer and has since grown into a multi-disciplinary team across our Product, Marketing and Tech departments.
To illustrate Sykes' ambition to grow the app, in the past year the business allocated nearly £1 million in paid media marketing and hit their booking target for the year ahead of schedule.
We saw that more people than ever were opting for UK breaks, which presented us with an opportunity to acquire and retain customers – particularly those who usually travel abroad. We knew the app would play a part in this, so set out to surpass the functionality found within apps from leading overseas operators.
There have been 12 development releases since August 2020, which include an in-built review system increasing the number of reviews we receive via the app, as well as improved customer booking experience, allowing users to share their booking with family and friends.
Over the next year, we plan to build a 'help centre' into the app where customers can go to contact us about issues with bookings. Installs and bookings will of course be important, but app ease-of-use and customer service is our number one priority.
We are very excited for the 2022 Northern Digital Awards and are keeping our fingers crossed for each and every business that has been nominated!
Author Chloe Jones, Outreach Strategist, Sykes Holiday Cottages
Facebook: https://www.facebook.com/sykescottages.co.uk/
Instagram: https://www.instagram.com/sykescottages/
Twitter: https://twitter.com/sykescottages
LinkedIn: https://www.linkedin.com/company/sykes/